LIMITED RELEASE AVAILABLE 9th NOV
DELUXE GATEFOLD LP - BLOOD SPLATTER VINYL DISK ARTWORK
Limited release of 100 records with a special blood splatter vinyl disk. View in our store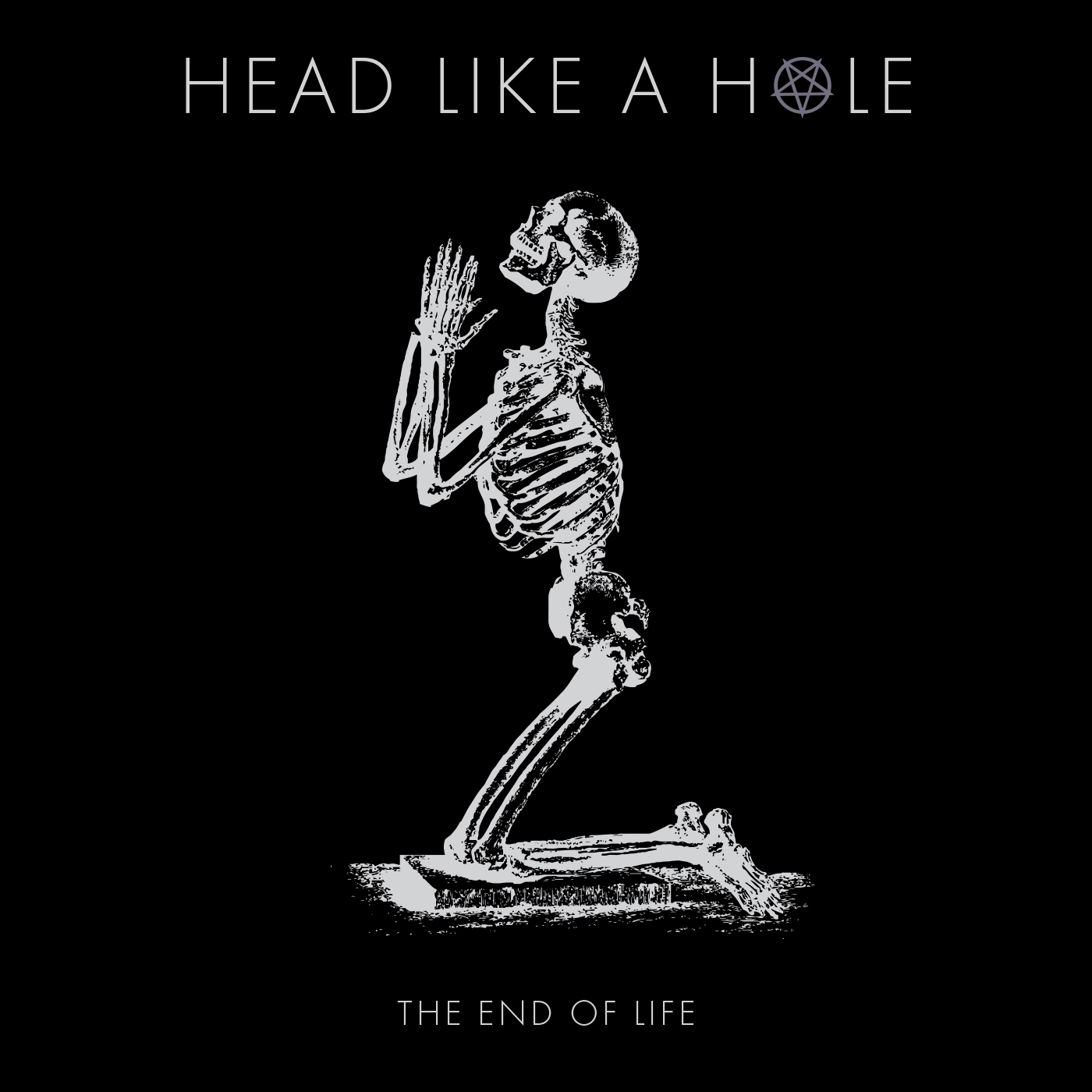 Update 13-10-2017:

New track & video Out Today!
Available from iTunes, Apple Music, Spotify, Google Play, Amazon & YouTube.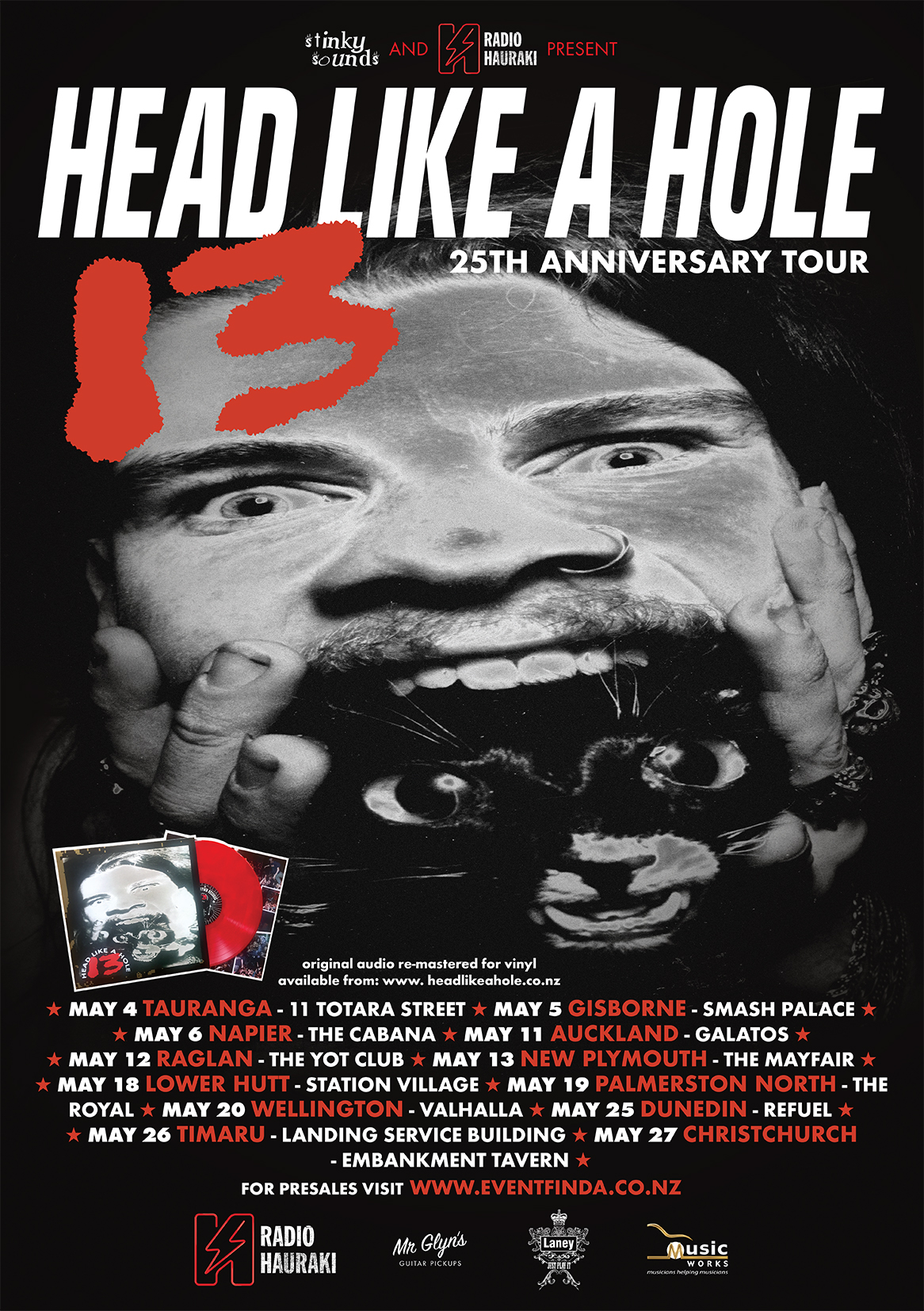 Update 14-03-2017:

In May of 2017, to mark the 25th anniversary of the release of HEAD LIKE A HOLE's debut album "13" HEAD LIKE A HOLE 
will embark on an extensive 12 date national tour. The tour will see the band playing this landmark kiwi rock album in it's entirety across the country.
The original album will also be re-released on 180 gram HEAVY vinyl.
 
"With a bit of perspective 25 years on it's easier to break history up into chunks but Narcotics, Noise and Nakedness pretty much sums up Head Like A Hole when that album was released, it's a fairly accurate description. The bands been through a lot and what hasn't killed us has made us stronger - a cliche I know, but it's fucking true. We are going out on the road again on the back of the 25th anniversary and we're going to play the entire 13 album for the first time ever. These songs reflect a very specific era for Head Like A Hole and we're looking forward to a bit of the old time travel." 
- BOOGA BEAZLEY
APRIL 29 • AUCKLAND • DING DONG LOUNGE * EXCLUSIVE WARM UP SHOW
MAY 4 • TAURANGA • 11 TOTARA STREET
MAY 5 • GISBORNE • SMASH PALACE
MAY 6 • NAPIER • THE CABANA
MAY 11 • AUCKLAND • GALATOS
MAY 12 • RAGLAN • THE YOT CLUB
MAY 13 • NEW PLYMOUTH • THE MAYFAIR
MAY 18 • LOWER HUTT • STATION VILLAGE
MAY 19 • PALMERSTON NORTH • THE ROYAL
MAY 20 • WELLINGTON • VALHALLA
 
MAY 25 • DUNEDIN • REFUEL
MAY 26 • TIMARU • LANDING SERVICE BUILDING
MAY 27 • CHRISTCHURCH • EMBANKMENT TAVERN

Presales will be available from www.eventfinda.co.nz
 


Update 15-07-2015: We are slowy getting closer to the Narcocorrido tour - better get out there and secure you tickets from Eventfinder. We are looking forward to seeing you at the gigs. We'll have plenty of merch and a limited supply of the original 'Shitnoise' on cassette too. Keep comeing back for more updates. Soon to be posting a blog about some of the great gigs Head Like a Hole have played, including the legendary 'Opotiki' gig.

Update 10-06-2015: On the road again. Yes, Head Like a Hole are heading out on tour startuing July 22nd. We will be playing songs from our new album Narcocorrido plus all the classics. Stay tuned for the dates and venues. Also we will have a lot of merchandise up for grabs and there will be prizes to be one including a chance to go paintballing with the band.

Update22-05-2015: Head Like a Hole are totally stoked that Andrew Ashton and Nigel Regan now have a sponsorship deal with Laney and are going to be playing the amazing Lionheart Amps on tour and on future recorduing. Also in the works is '13' being prepared for a limited Vinyl release in the coming months and the band getting ready for a Nationwide tour in July. Keep checking back here because there will be prizes and stenchpacks to be won.

Update 20-04-2015: 'Narcocorrido', the brand new Head Like a Hole album was finally released on April the 10th and has hit the charts at No.3. the pledgepacks have gone out (good work Booga Beazley) apart from a few people that have not supplied their current address. The band are totally stoked and from the comments recieved the fans are very happy with the album too. Stay tuned for upcoming tour dates. http://nztop40.co.nz/chart/nzalbums


Update 16-02-2015: The Album has been mixed and mastered and is going into production as we speak and the artwork for the album has also been completed and is off to the printers. Thanks to all the Kickstarter pledgers and you paitience. So not long now. The pledgers will recieve there copies plus the goodies first and then the album will be in the stores soon (stay tuned for actual date here) distributed by Rhythm Method. Show some support for New Zealand's only stench rock band and see if we can get this baby charting. Cheers.

Update 05-02-2015: The pledgepacks for the people that contributed to the Kickstarter fund are nearly completed. The shirts are being printed and the various other goodies are underway too. After a delay with the mixing the album is finally in the can and sounding totally rocking. It is being mastered as we speak and will go into production soon.

Update 28-01-2015: Sales of the 7" are going well and the album is finally mixed so we are currently getting the artwork underway with the album to be out asap so we can get on the road and bring it to a venue near you so you're able to hear the songs live in their full grunting glory. Also we are happy to announce that Nigel Regan and Andrew Ashton will be using FIREHORSE fx pedals which are handmade New Zealand Pedals. The Firehorse Fuzzkill is a fantastic little fuzzpedal which can get a great Stooges/MC5 rhythm sound and crank the gain up and you've got a wailing fuzz from hell great for leadbreaks. Also they come in a nice compact size (massive grunt from a little package). I reccommend you check out the webiste www.guitareffects.co.nz . Stay tuned for more updates.

Update 08-01-2015. We are really proud to have finally released something on vinyl. Long overdue, a 7" on red vinyl with 'Creedence' on one side and our mates across the ditch 'Seedy Jesus' have their song 'Shakin the Fuse' on the other. Somewhat in the spirit of 'Faster Hooves' where we let our support bands at the time (Fuckmutha and Steak) put a song each on the single from the album 'Flik Y'self off Y'self' which we were touring at the time. A huge thanks to Lex from Seedy Jesus for putting this together. This is available through our Bandcamp page which you can go directly to from here and there are only 135 available on red vinyl and once sold out we won't be doing another run. Sales from this will go towards producing the next 7" which should be 'Glory Glory' with the remix on the B-Side.

Update 27-12-2014. The new album 'Narcocorrido' is in the final stages of being mixed by Andrew Buckton and then ready to go into production for early February with a National tour to follow. Also in the New Year we will be releasing our first ever 7" vinyl of 'Creedence' featuring our Aussie mates ' Seedy Jesus' on the flip side. Stay tuned for when this will be up for sale early 2015. 

https://www.facebook.com/seedyjeezus?ref=ts&fref=ts

Update 23-11-2014. As of late November 2014 we are in the final stages of recording our new album and will be releasing the title of it very soon. The working title of the album is 'Ravens Loot' taken from a line of the last song we recorded 'Creedence'. So in the coming weekend (the 29th and 30th) Booga and Nigel will be going to Auckland to work with Jol Mulholland to lay down Booga's stenchy vocals and then in December Andrew Buckton (producer of Blood Will Out) will be mixing. And when finished it will be released early February (this is when our Kickstarter supporters will recieve their extras) followed by a national tour so you can come out and hear us pound it out live. We're looking forward to completing it and would really like people to post their opinions, likes/dislike on our message boards. We will create a one especially for the new album. Thanks for your continued support and rock on and 'Long live the Stench'.
Previous events
HEAD LIKE A HOLE NARCOCORRIDO TOUR